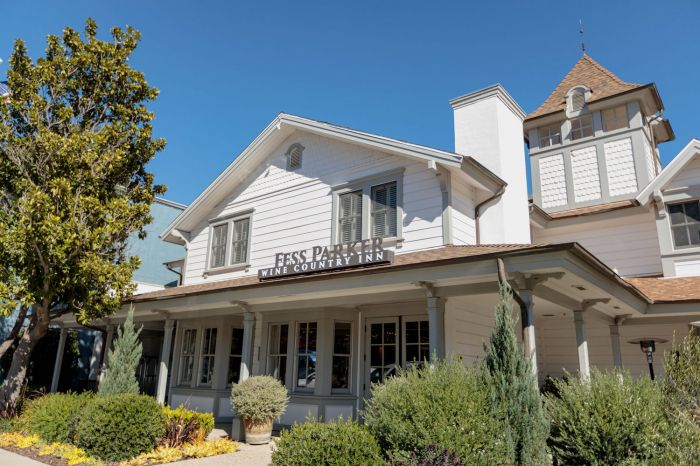 Fess Parker Wine Country Inn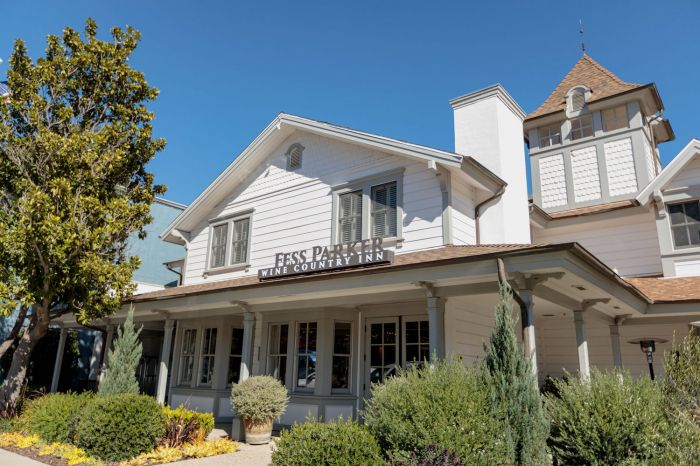 Television enthusiasts of a certain age likely remember Fess Parker as the star of 50s and 60s television shows Davy Crockett and Daniel Boone. But to wine enthusiasts, Parker is better known as a Santa Ynez Valley icon who helped to transform the region into a wine lover's destination. Parker lived for decades in Santa Barbara County, and after retiring from acting, he reinvented himself as a respected vintner and hotelier. He, and now his family, have cultivated a world-class hospitality portfolio around the beauty and bounty of Santa Barbara County. Guests to Los Olivos can experience the full breadth of the Parker family's hospitable offerings with a stay at the quaint Fess Parker Wine Country Inn, which serves as a gateway not only to their winery, but also to the more than 30 tasting rooms within walking distance.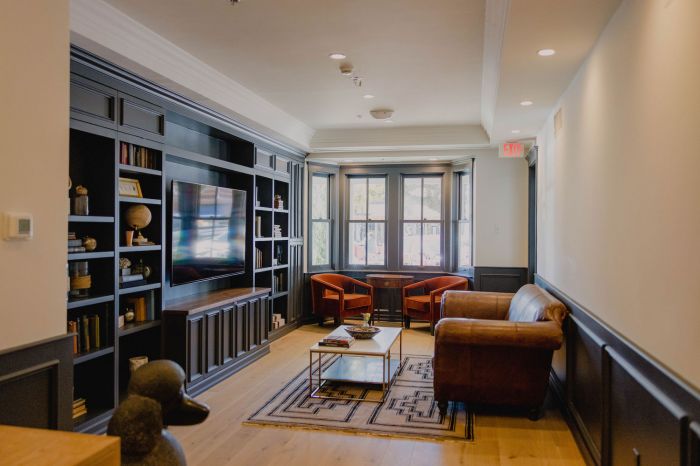 Fess Parker Wine Country Inn Library. Photo courtesy of the Inn
This Preferred Hotels & Resorts LVX Collection boutique inn is the perfect spot for exploring Los Olivos. Centrally located to the abundance of tasting rooms and boutiques, the Inn continues to be family run by Fess's son Eli Parker and his sister Ashley Parker Snider, the stewards of their father's wine and hospitality visions. 19 rooms and suites of varying sizes located within two buildings offer luxurious indulgences such as a bottle of complimentary wine upon arrival, a heated pool, a lush garden with firepits, a bountiful buffet breakfast, and plush beds and bedding.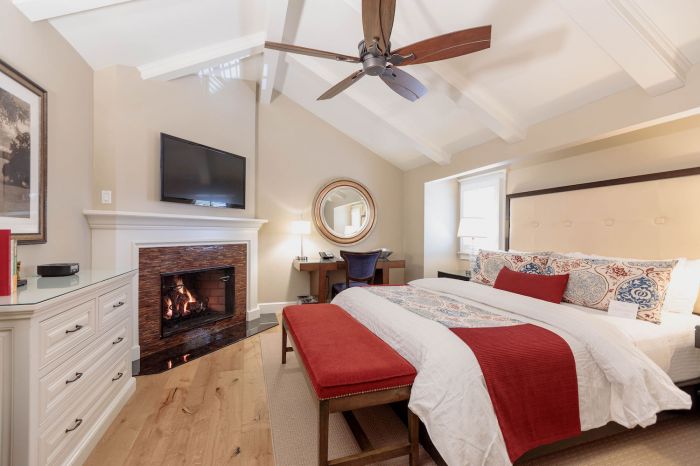 Fess Parker Wine Country Inn Guest Room. Photo courtesy of the Inn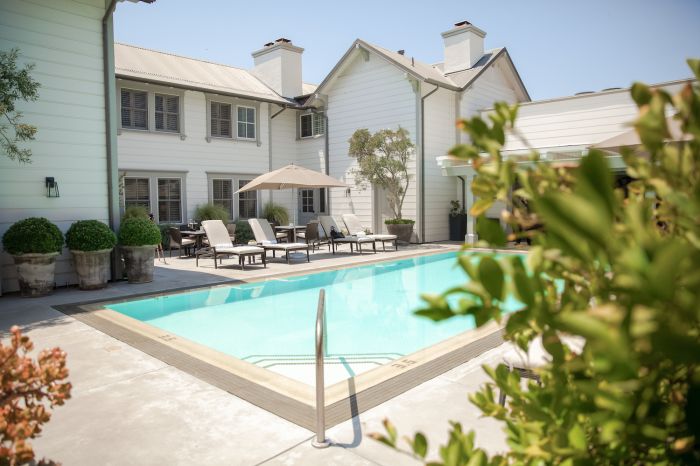 Fess Parker Wine Country Inn Pool. Photo courtesy of the Inn
Located within the Inn is Nella Kitchen & Bar. With its heat-lamp warmed front patio and cozy interior, it's the local spot in which to gather after a day of wine tasting and to indulge in the star attraction Pinsas, Roman-style pizzas with flatbread-like crusts and a variety of toppings, such as the "Carciofi" (baby artichokes, fior di latte, pancetta lardons, carbonara sauce, Pecorino Fiore Sardo), the "Bianca" (fior di latte, Parmigiano, Challerhocker, caramelized blonde onions), and the "Scarpetta" (fior di latte, five-hour Bolognese, Parmigiano). For lunch in town, try the new, Michelin-recognized Bar Le Côte, a stylish seafood tavern inspired by the modern cuisine of European seaside capitals. The Fried Oyster Po'Boy with sliced tomato, shredded lettuce, and spicy BLC tartar sauce has become a fast favorite.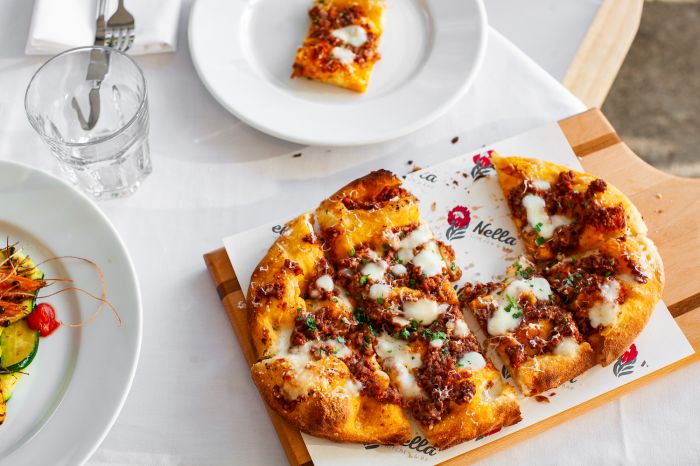 Nella Restaurant & Bar Scarpetta Pinsa. Photo courtesy of Nella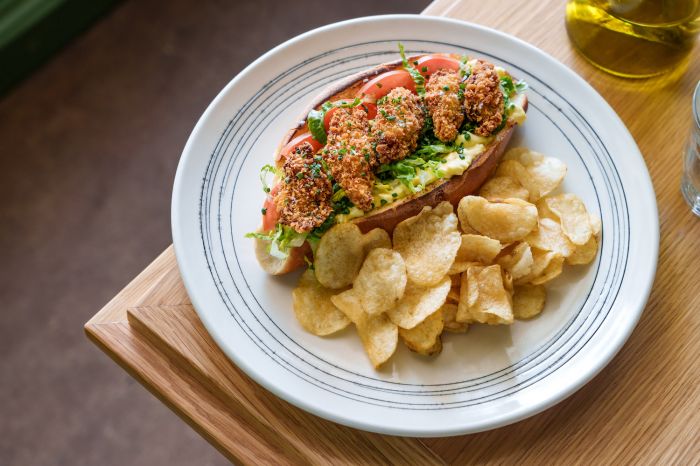 Bar Le Côte Fried Oyster Po'Boy. Photo courtesy of Bar Le Côte
A stay at the Inn includes complimentary wine tasting at Epiphany (the Parker family's second label that allows Eli to explore lesser known varietals) and at the eponymous Fess Parker Winery located nearby along the picturesque Foxen Canyon Wine Trail. Long a top wine tasting destination for its exceptional Rhône and Burgundian varietals from Santa Barbara County, the winery recently renovated its tasting room to reveal a modern design that pays homage to the family's roots while supporting the winery's more elevated tasting experiences.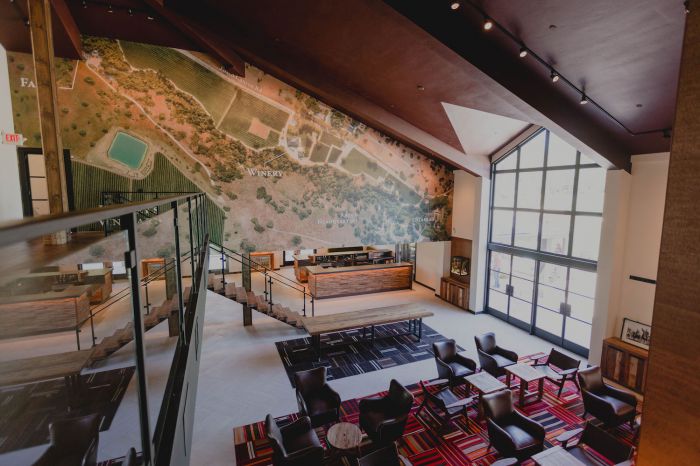 Fess Parker Winery interior. Photo courtesy of the winery
Fess Parker Winery Tasting Patio. Photo courtesy of the winery
Decorative touches include a mural of the Fess Parker Home Ranch, showcasing the 714-acre property purchased in 1988, as well as a stunning Kodiak Greenwood photograph of Parker's favorite spot on the ranch, which is printed on metal and hung as a tryptich above the fireplace. Memorabilia from Parker's acting days – including the guitar with which he auditioned for the role of Davy Crockett and an original copy of the lyrics from 'The Ballad of Davy Crockett' with margin edits – are a nod to the late patriarch's roots.
Just as Napa Valley's Yountville is playfully referred to as "Kellerville" due to Chef Thomas Keller's many restaurants that line the small town's main drag, Santa Ynez Valley's Los Olivos could be considered "Parkerville" due to Fess Parker's welcome influence, and his original belief in the many wonders and attributes of this bucolic central California region. Whether a Davy Crockett/Daniel Boone fan or a wine fan, each will find something to love in Los Olivos.